If your images are not coming out clear, there are a couple things that could be causing that issue. These issues can be related to, but not exclusively, a residue build up on the lens or software related, specifically if you are using Dexis as your imaging software. Below are some common issues we have seen and our suggested resolutions for them.


Method 1- Cleaning the lens
The blurry or foggy image you are seeing could be due to a residue build up on the lens of the camera.
Using an isopropyl alcohol wipe, gently clean the lens on the camera. Do not press hard as you do not want excess liquid to come out of the wipe and get into the housing of the lens. We also recommend the use of a micro brush to clean inside the housing of the lens.
For more information on cleaning the camera you can check our full cleaning instructions here : Cleaning Instructions
We strongly recommend the use of isopropyl alcohol wipes for the cleaning of the camera lens, other cleansing wipes may damage the lens.

Method 2- Improper Sleeve Placement
If your image is blurry only when you have the sleeve on the camera it is likely due to the sleeve not being fitted correctly. Our sleeves comes with a clear window on one side that should line up with the lens of your camera to get the best image quality. When putting the sleeve on, make sure to have the lens facing away from the blue tab on the sleeve.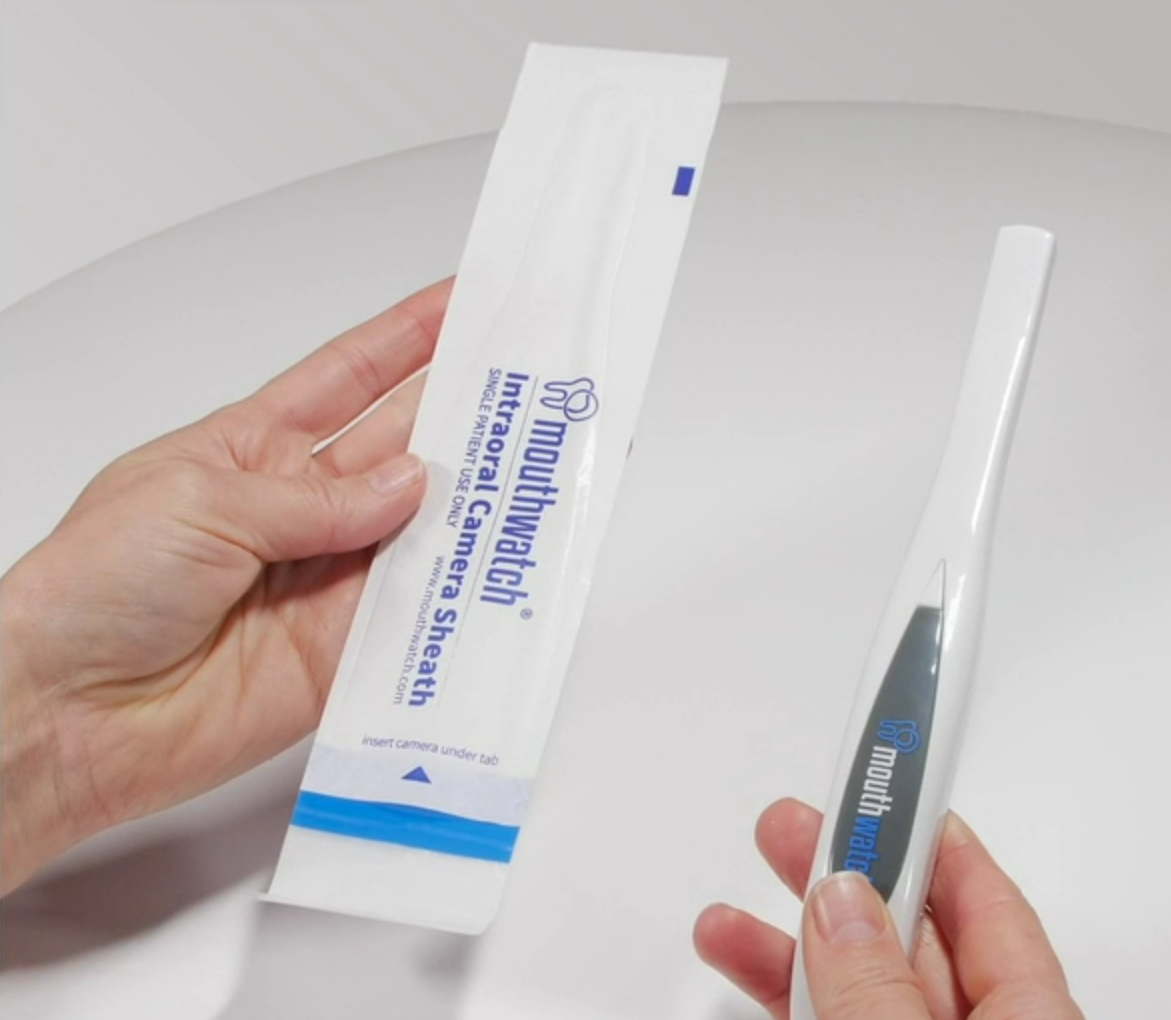 Method 3- Dexis Issue
If you are using our camera with Dexis Imaging software, the issue could be software related. In these cases it will look like circles are around the image, like the left side of the photo below. If the photo looks like what you are experiencing using Dexis please reach out to one of our live support agents for assistance.
Method 4- Contact Us
In the case the previous troubleshooting steps did not resolve the problem, we kindly ask you to contact us for further troubleshooting and replacement options.

Important Note: Fogging/Blurry images is not covered by MouthWatch's Limited Warranty Policy and will not be replaced under warranty terms as it may have resulted from misuse or improper cleaning of the camera device.