To add tasks through Quick Action, do the following:
1. Click the Quick Action icon in the menu.

2. Select Tasks from the drop-down menu.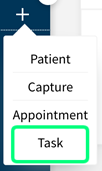 3. In the pop-up window, select the following from the drop-down menus:
Task Type
Associated Patient
Associated Provider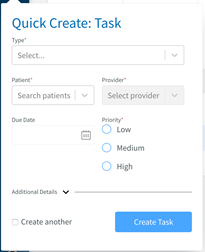 4. Enter an optional due date.
5. Set a priority level of Low, Medium, or High.
6. Add optional additional details in the text box.
7. Click "Create Task."

8. If you wish to continue creating tasks in Quick Action, click the check box for "Create another" before adding the task.
Note: The provider assigned to the task will receive an email alert from TeleDent. The task will also appear in the Tasks panel on their Dashboard the next time they log into TeleDent.