Whenever a patient activates their Patient Portal, they must confirm that they have read the group's consent policy.
While TeleDent provides a default policy, you can edit it or create your own at any time.
To edit the default consent policy, navigate to the click on Consent Policy in the left hand sub-menu of the Admin Tools.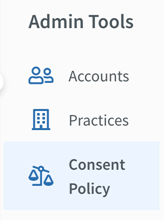 Use the text editor ribbon to format your policy.

Type directly in the text box to change the text of your policy.
Click "Save Group" to save your changes.