Once clinical data has been collected in an appointment, TeleDent assembles all of it in the Review tab of the patient's appointment.
A user can simultaneously view:
Clinical Notes
Collected Images (including image notes)
Procedure Codes
Documents
Audio Memos

This feature may be particularly useful when collaborating with another provider or specialist, who may access and review the data remotely.
In addition to viewing the collected data, a user may add notes to an image.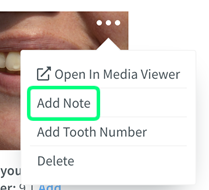 You may add a clinical note to the appointment

Users may also collect additional data by clicking "+" in the individual panels.

Note: View a patient's entire cache of collected data through their patient record under the Collected Data
tab in a patient record.